This is part 3 out of 3 of my four-day journey to Machu Picchu along the Inca Trail.  Read part 1 here, and part 2 here.
It wasn't a majestic sunrise. There were no bright rays of light shinning through the clouds down on the path ahead of us. No red tones of ocre fading into the blue of the receding night sky. No clouds reflecting the light of the sun. It was just the light of day gradually replacing the darkness of night. The sun burned the way it has done for billions of years.
This was the same sun that the Incas once revered. The same sun that sustained their life as it sustains our own.
It was a morning like any other over five hundred years ago.
The Final Steps to Machu Picchu
With a two hour hike from the campsite to the Sun Gate (Inti Punku), we were up at 4 in the morning. After a quick breakfast, our last breakfast together as strangers who came together as a family, we got our backpacks and lined up to show our passports when the Inca Trail opened up once again at 7 a.m.. We had one last hike before arriving at our destination, Machu Picchu, a mere brisk stroll away.
Now, I have never been one to enjoy learning about anatomy. In fact, even though I took Physical Anthropology in college, a class in which I had to memorize the different bones and major muscle groups of the body, I could not tell you whether my tibia is in my leg or my arm (although I do believe it is in my arm). But if there is one thing I learned about anatomy after hiking the Inca Trail is that I had muscles in my legs I did not know I had before.
And BY GOLLY THEY HURT… a lot.
Of course, it goes without saying that hiking the Inca Trail was a major physical challenge unlike anything I have ever faced. Little did I know, ahead of me, laid the greatest challenge of all. And it had nothing to do with how much my legs hurt.
As we stood in line, waiting for the clock to strike 7, with the Andes mountains before me, I had plenty of time to think about having arrived at the pinnacle of our journey. I wondered how Machu Picchu would look after the wonderful three-day hike. I had, after all, hiked in the midst of fairy-tale-like scenery, pet an alpaca, and climbed hundreds of steps on the way to the highest point of the Inca Trail.
Would Machu Picchu live up to what I had experienced so far?
Would anything compare to this experience?
Would my life back home fall short of this amazing adventure?
Whatever the answers to these questions, I chose to focus instead on the step ahead of me like I had done over the last three days. Slow and steady.
Slow and steady wins the race too.
I stuck to the back with two of the American girls and the Italian couple. We were the slow hikers in the group, and that allowed me to really enjoy the scenery and the few last moments that I would get to spend in these enchanted mountains.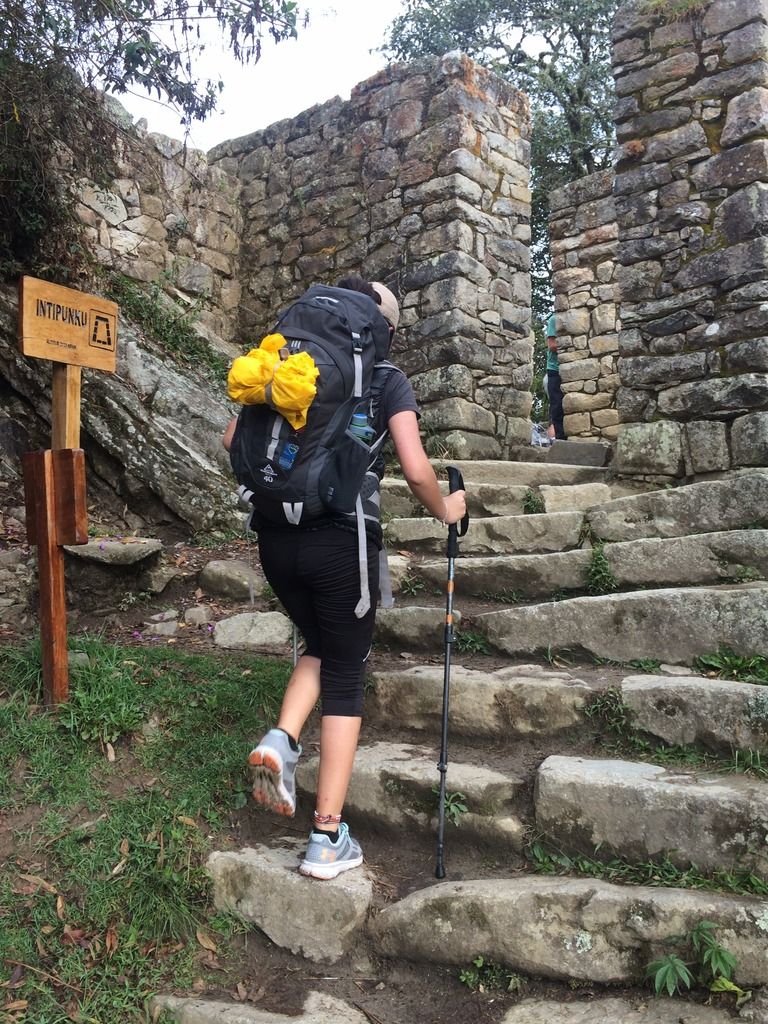 After walking a couple of hours, I crossed the Sun Gate. It was the beginning of the end of our pilgrimage to Machu Picchu.
With shaky legs and carrying my back pack once again, I climbed the monkey steps and sat down on one of the many rocky surfaces to take in the scenery. I had made it. I had pushed myself beyond my limits and I had conquered. Machu Picchu was now within my grasp, and so was the rest of the world.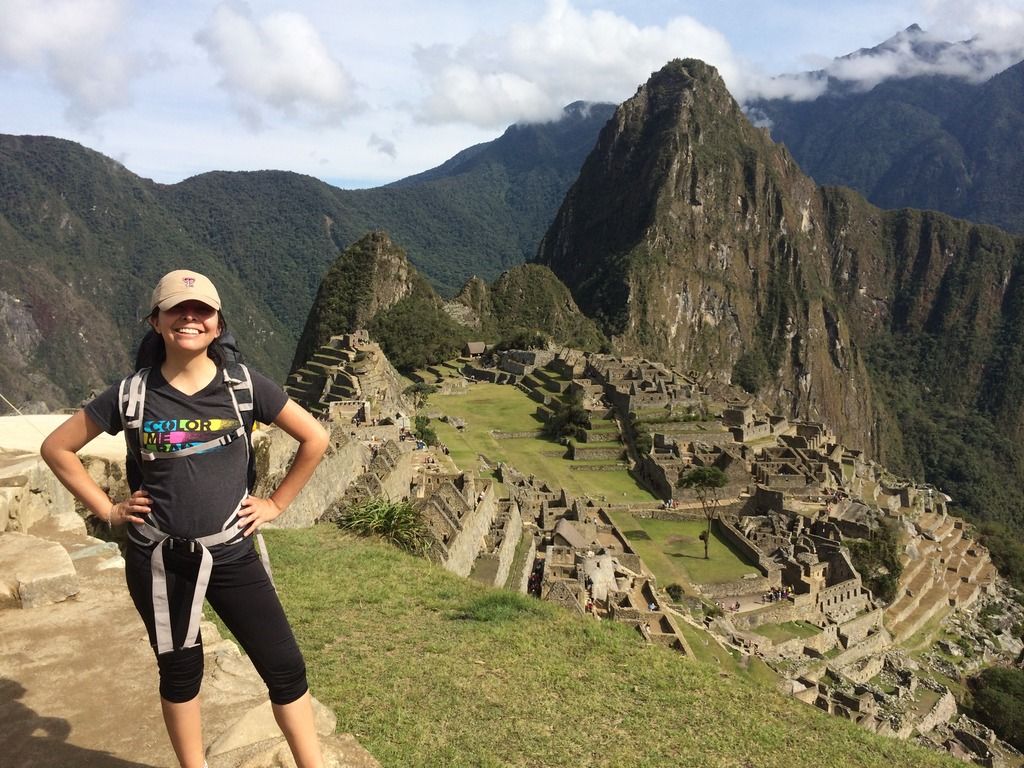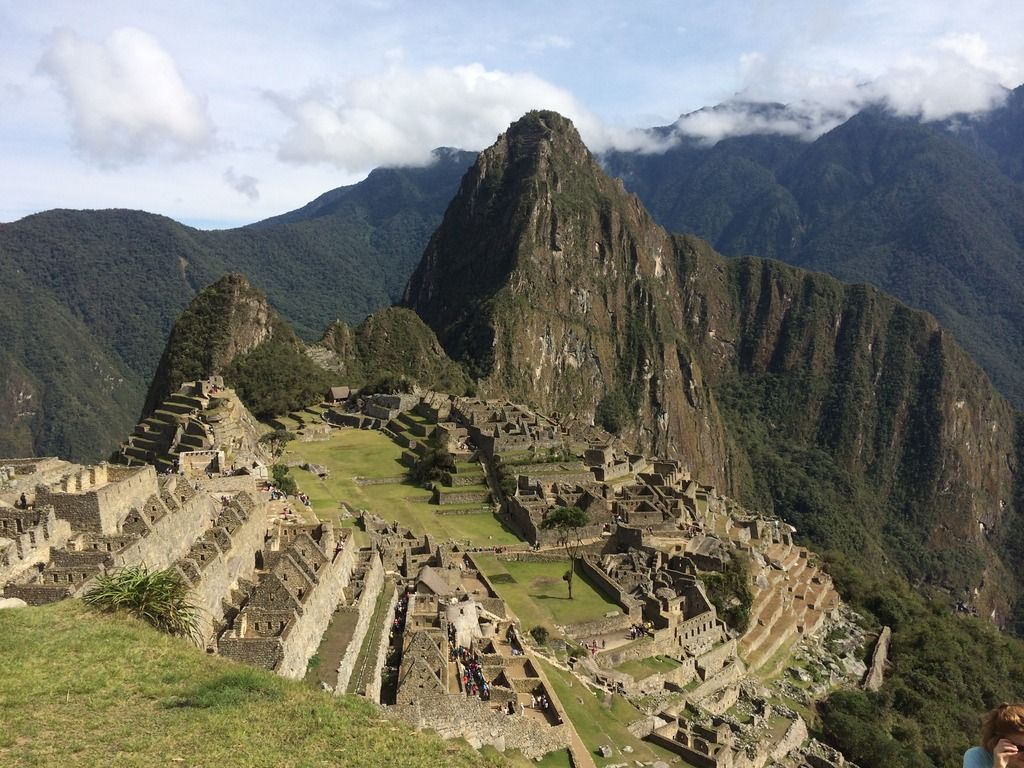 Considering how climatic arriving at Machu Picchu was, again, I wonder if visiting Chichen Itza would have felt like more of a sacred journey had I hiked there for four days and three nights.
Or maybe it's not that I walked for four days, but rather that the magic of Pachamama took me over.
Becoming an Anthropologist
A few weeks before leaving for Peru, still in Houston, I stepped into "#nerd level BOSS" territory, pulled out my old college laptop (we're talking about a 10 year old dinosaur of a laptop here), and started going through old college notes. I wasn't looking just for any notes, however. I was looking for the notes from the "Archaeology of South America" class I took back in the Fall of 2008, the semester I graduated college.
It was that semester that I learned about Pachamama. Dr. Walter, made it very clear from the beginning that:
a) She could tell if I was surfing the internet while I pretended to take notes in her class (hence why I had very good notes for her class), and
b) there were actually a host of other pre-Columbian civilizations we would be studying, and neither the Incas or Machu Picchu would actually be on the list.
Many of these pre-Columbian civilizations in South America had one interesting thing in common: The worship of Pachamama, or the Goddess. Hers is the realm of fertility, love, and feminine energy. And there I was, walking in her very womb.
And so it was deep in the Andean mountains that I got to re-live and assert a decision I had made a decade earlier. Amidst the questions of naysayers and the uncertainty of the future, I chose Anthropology as my major in college. My minor would change a couple of times before I met the other love of my life, Psychology, but I was set on Anthropology.
There, along the Inca Trail, I was no longer the student taking notes from other Anthropologists' field notes. I no longer had to look up to another Anthropologist's notes of their experience, but rather, I was the Anthropologist recording her own experience at 7,875 ft. above sea level.
This was a dream come true.
As if I was not enough of a nerd already, I proceeded to geek out over our tour guide's hour and a half tour presentation of Machu Picchu.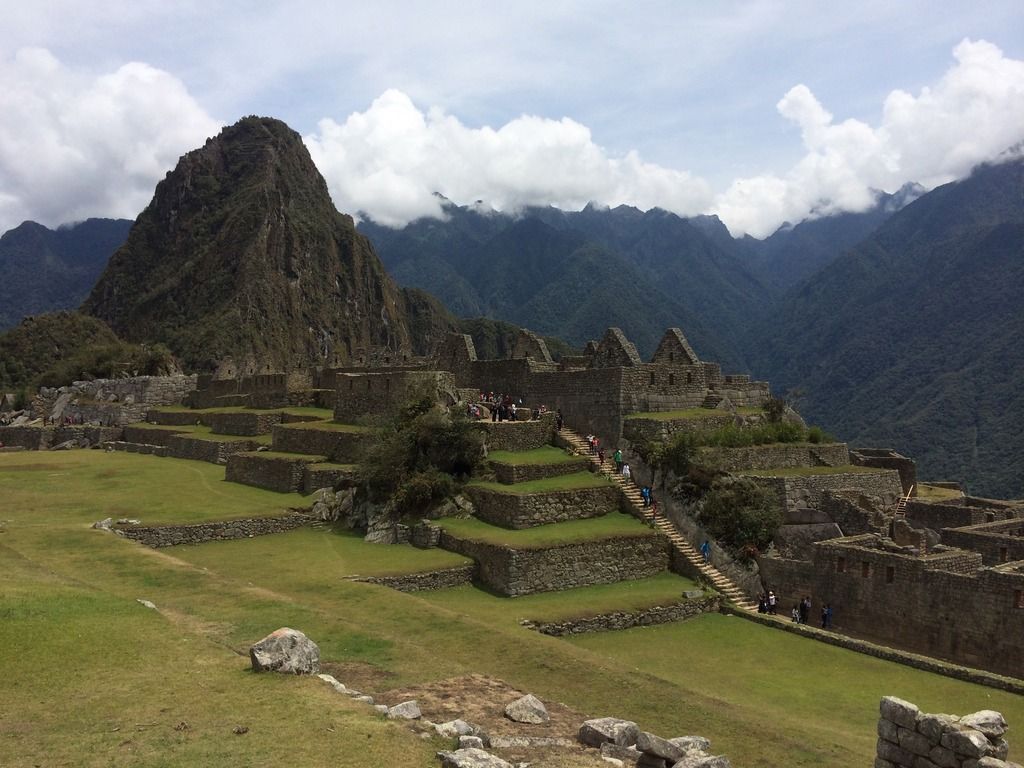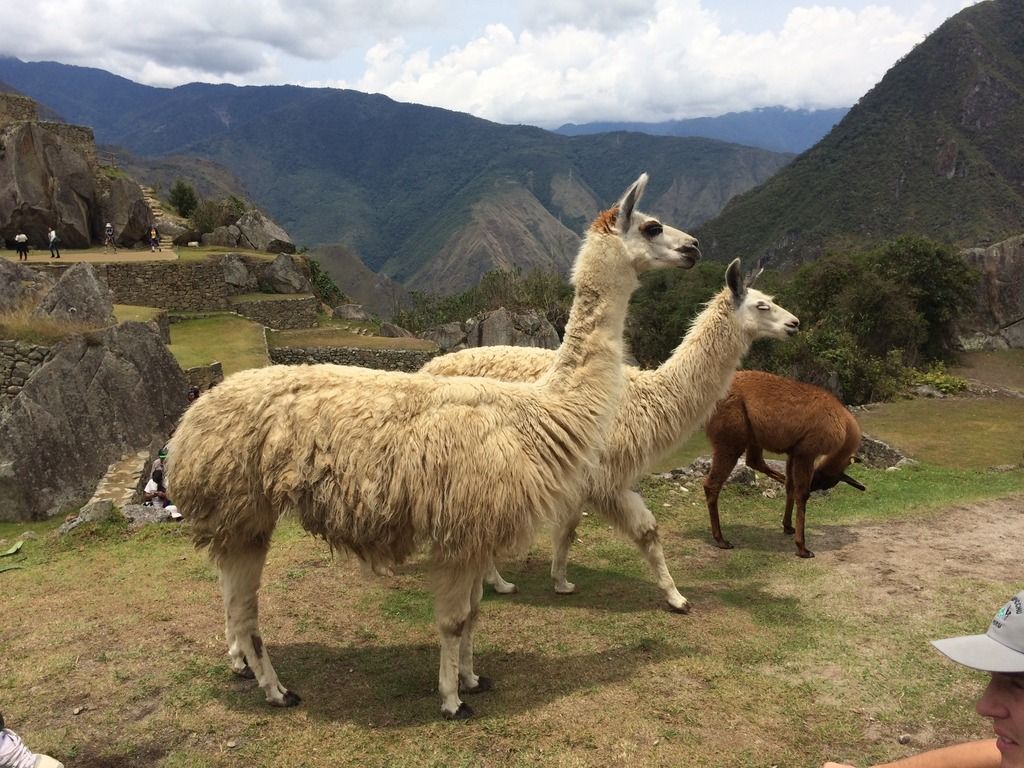 Machu Picchu itself was beautiful. We got to explore the city on our own and even pet more Alpacas. It was everything I could have asked for on this journey. But if I am to be honest with you, my favorite part of Machu Picchu still remains the actual hike along Inca Trail and arriving at Machu Picchu by foot.
#Best decision ever
I had come, I had seen, and I had conquered; it was time for a massage and a warm shower back in "Machu Picchu Town" (that's totally not it's name).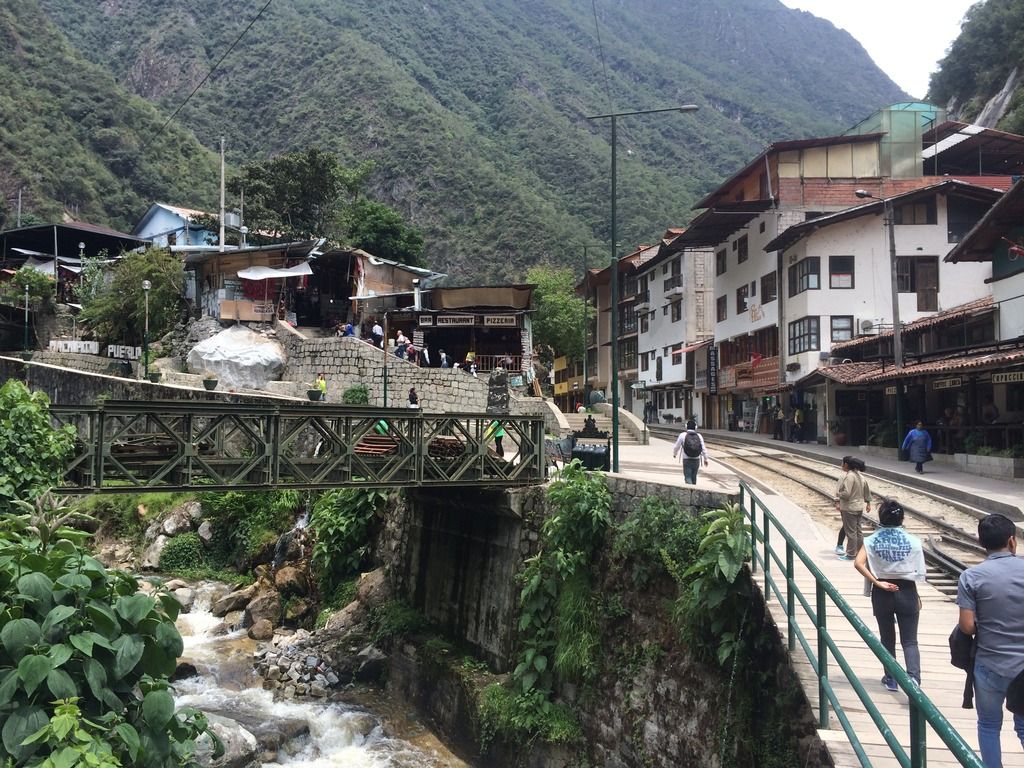 We returned to Cusco that same night where we spent one more day buying souvenirs and packing for our flight to Lima early in the morning. It was at the San Pedro market that I came across the perfect book to end the journey, The Witch of Portobello by Paolo Coelho. Honestly, a book on the Great Mother at the end of such a journey through Pachamama's womb couldn't have been more timely.
Of course, I devoured the book in about two days, as I always do with any Paolo Coelho book.
Lima: The Last Night is Always the Most Memorable One
When we were in Japan the year prior, we met a friend from college last minute in Harajuku. We ended up going with a group of expats to dinner and to the public baths. Overall, we had a great time the entire time we were in Japan, but for some reason, that last night remains as one of the most memorable moments of the trip.
Fortunately, fate would have another magical night in store for us once in Lima.
We met up with the Italian couple in Lima's main square and aimlessly explored the city for a few hours. It was a weekend so the plaza was busy and lively.

There we got to eat fresh ceviche and drank Pisco Sour, which is, by the way, an amazing drink. We sat around a cafe in a mall to kill time, walked past groups of men on strike, ate food from a street vendor, and made our way to the most magical night of the trip: the water and light show at El Parque de la Reserva.
The traditional Peruvian pan flute whispered the songs of the Quechua to the steady strum of a guitar, and reflected in the water, the image of a condor mid flight. I think at that moment I understood the euphoria Lily King writes of in her book, Euphoria. That moment when you feel like you are at the right place and at the right time.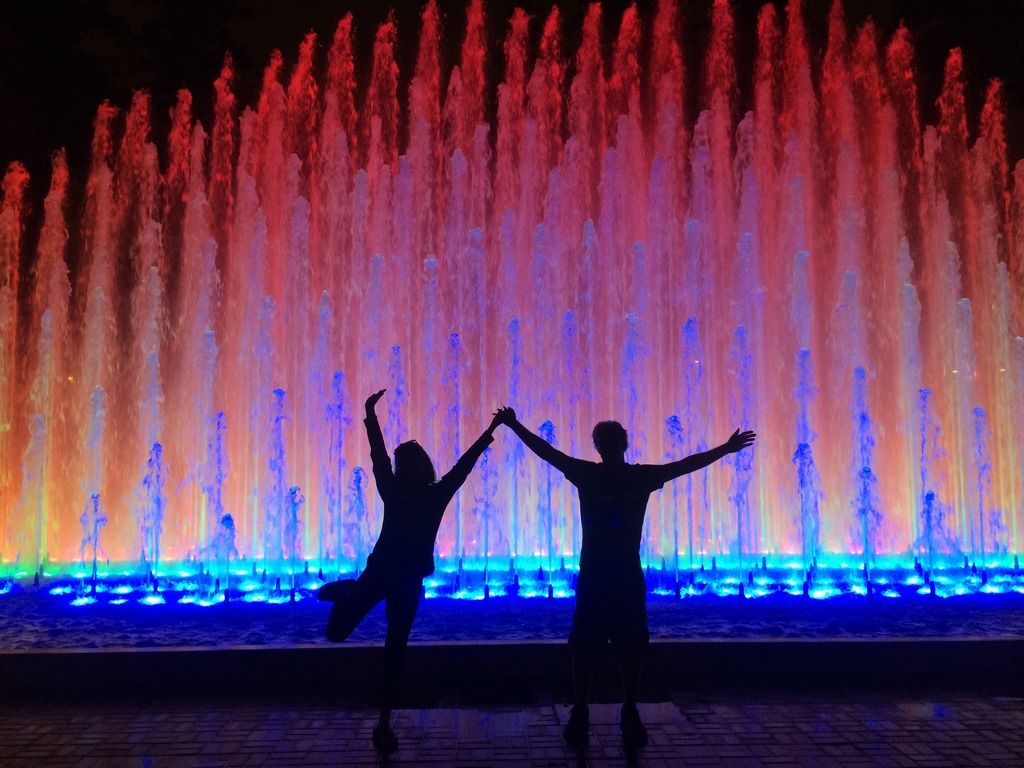 That night I ran through water fountains, mesmerized at water shooting to the sky, and stood in awe at how perfect a day it had been. The next day it would be back to Houston, and to tell the truth I was eager to return home, as I always am.
We ended the night back at the beachfront apartment I rented through AirBnB.
#Because f*ck yeah AirBnB
Finally, we landed back in Houston without a hitch. On the drive back to our apartment, however, a baby seat fell out of the back of the back of a truck on the freeway. Even though I was headed straight for the tumbling baby seat at 65 mph, I swear it broke and disintegrated into pieces right before my eyes. It all happened so quickly, and yet everything seemed to slow down and become lucid at the very moment when the many pieces of plastic cleared out of my path.
I have always had a guardian angel looking over me, and if that was not a wake-up call, I don't know what it was.
Would my life be anything but ordinary from now on?
Will I use my vacation paid time off to escape from the life I live?
Or will I make my life one continuous, never-ending, epic adventure from which I never have to run from?
The answer, as I would find out, is a loud and resounding always.