The Inca Trail, depending on which company you hire to undertake the journey, is a 26 mile (43 km), 4 day and 3 night camping and hiking trip across the Andean mountains on the way to Machu Picchu, the Lost City of the Incas.  When I found out that this trail existed I knew I had to take it and that there would be no other way to make my way to Machu Picchu.  Below you will find my impressions and thoughts on having hiked the Inca Trail in October of 2015.
Enjoy 🙂
I remember brown peaks covered in snow revealed themselves through the clouds.  I am not sure whether the peaks were that tall or we were flying that low.  Whatever the case may have been, I recall a headache since we left the airport in Lima where we "slept" because we did not see a point to getting a hotel for our six-hour layover.  I also recalled a movie in which a plane crashes somewhere in the mountains and the passengers turn to eating one another to survive–fortunately this was not our fate.
So it was that below us, in all of their grandiosity, were the many stories of the Quechua.  The excitement of the journey boiled deep within my soul, for I was about to join hundreds of other hiking enthusiasts in one of the most outstanding experiences of my life across the Peruvian jungle.  I was about to make my dream come true and hike the Inca Trail to the Lost City of the Incas, Machu Picchu.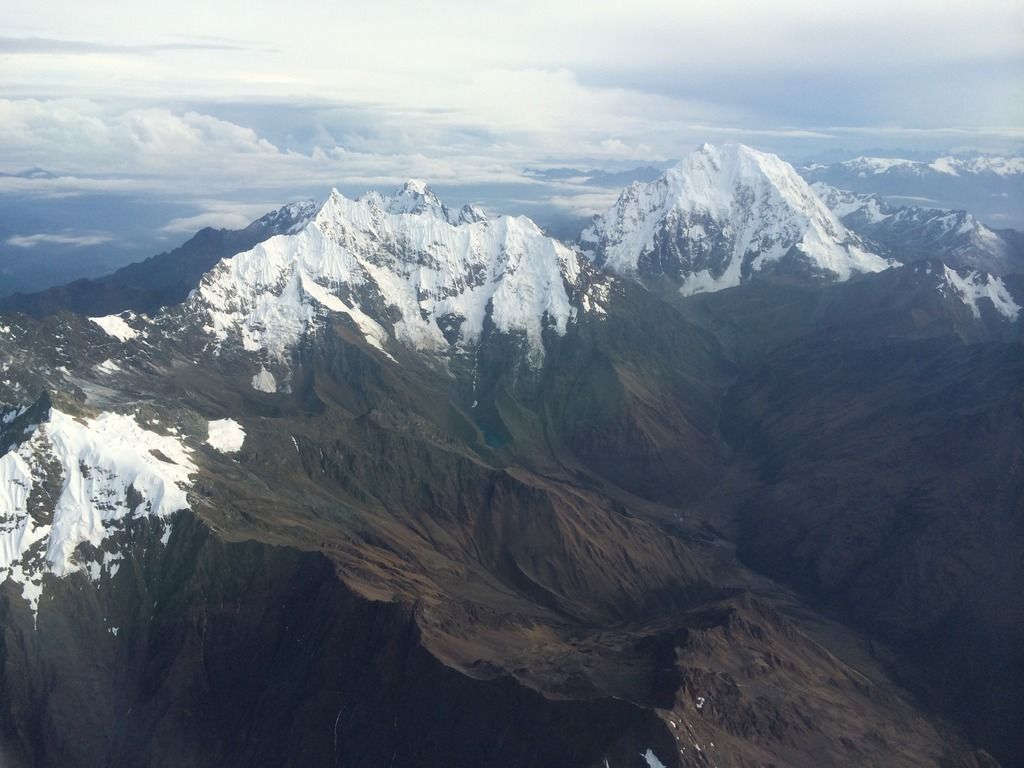 Above all, In approximately 48 hours I was about to wonder "what the f*ck did I get myself into?"
Note:  This is post 1 out of 3 of my trip to Machu Picchu along the Inca Trail.
I have to admit I am biased.  I was raised in Mexico, after all, and I was extremely fortunate that most of my traveling as a youngin was spent moving across the warm and colorful landscapes of Mexico.  So it was interesting for me to see this other country colonized by Spaniards and how different it is from the privileged world I grew up in.  After all, in Anthropology, there is nothing more valuable than an informant that is also an outsider to his or her own culture.
So bear with me, because I am probably going to be comparing Mexico to Peru quite a bit–but not in a "one is better than the other" kind of way, but rather, as a point of reference.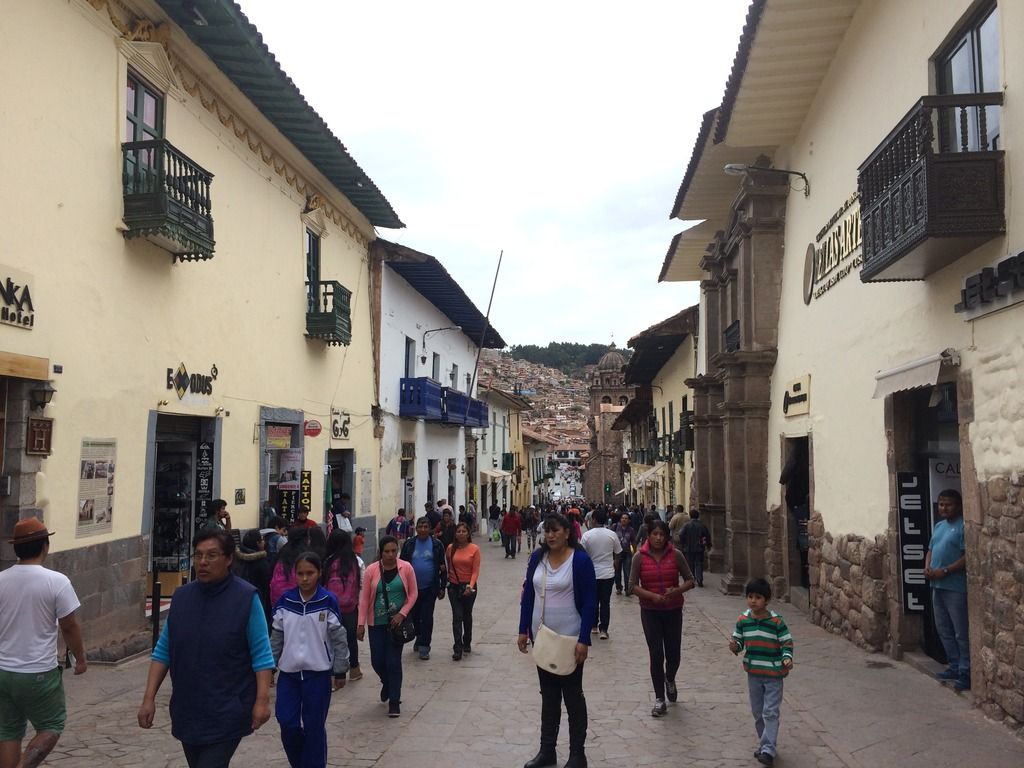 Exploring Cusco
We arrived in Cusco early in the morning two days ahead of our trip because we wanted to acclimate to the altitude in preparation for the long hike.  In fact, if you are planning on doing the trail yourself, getting used to the altitude is a must.  I remember getting up to use the restroom in the middle of the night on our first night there and I was completely out of breath by the time I laid back down.
We arrived at a small locally-ran hotel that I booked through AirBnB (I must add that I now prefer using AirBnB to booking hotel rooms) and were fortunate to find that we were located across the street from a small super market, and from an artesanal market which was perfect for souvenir-shopping.  Having slept less than three hours the night before, the first order of the day was a power nap so that we could explore the city.
In a sense, it reminded me of growing up in Mexico.  With it's streets crowded with cars moving about in complete yet organized chaos and it's people headed about their daily business by foot.  This was quite the rude awakening compared to my more or less carefree lifestyle in Houston where a car is a must and where oil money runs rampant.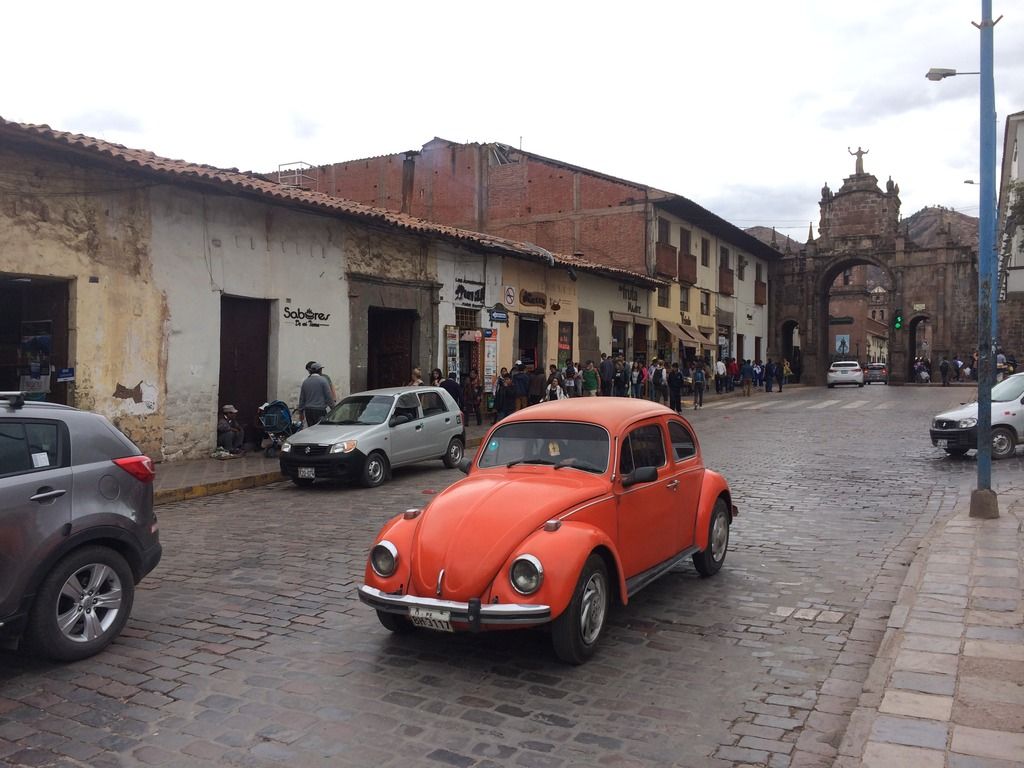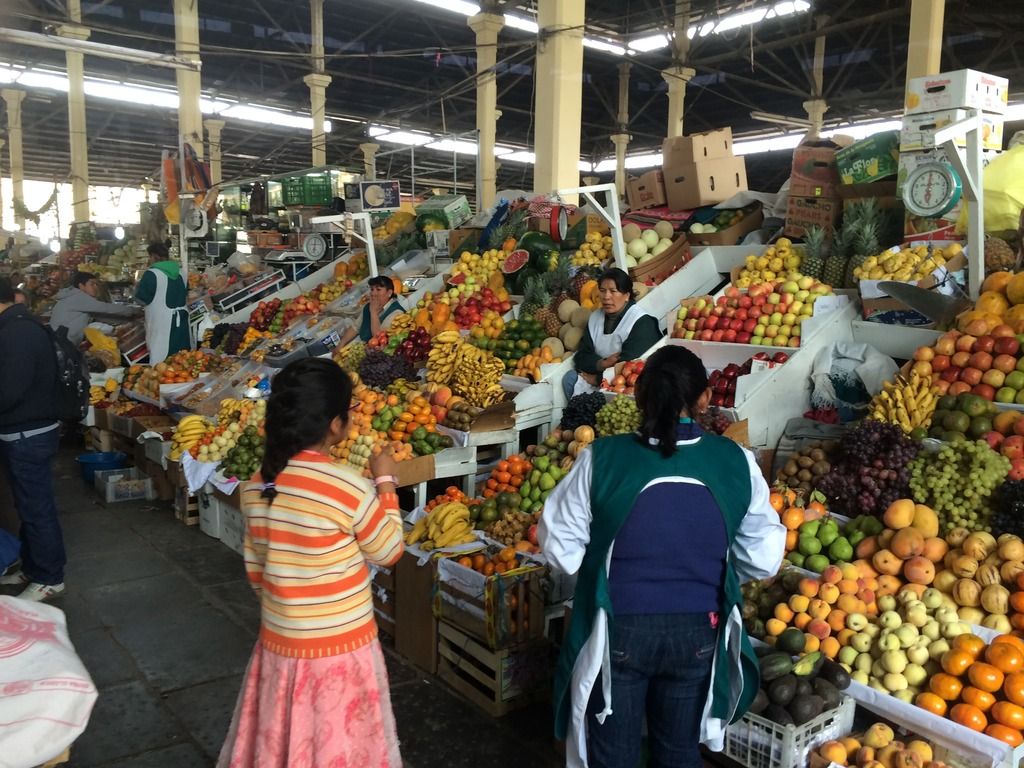 One of the things I love about travel is experiencing the world of another culture through their food.  Living in Houston I am spoiled with an amazing culinary scene, and yet nothing ever compares to drinking a freshly squeezed orange juice from a street vendor in Cusco, Peru, a quesadilla and the best coffee ever from a hole-in-the-wall shop in Cancun, Mexico, or Yakitori and Okonomiyaki mixed in with the cigarette smoke from other patrons in Japan.
Of course, Peru did not disappoint in the food department.  I ate choclo (white maize with cheese), Alpaca steak, pollo saltado, incredible quinoa soups, and Ceviche of course.  Unfortunately, we never got to eat Cuy, or Guinea Pig.  But every time I see a guinea pig meme or a guinea pig at a pet store I think that maybe it's for the better.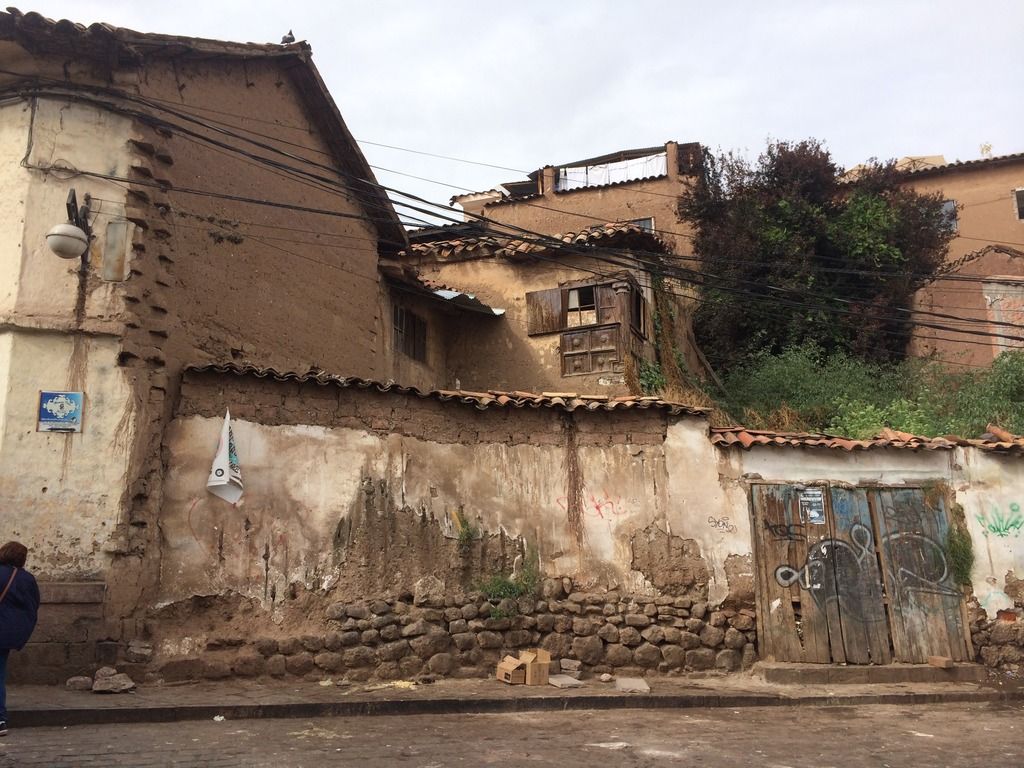 Peruvians struck me as people who work hard for the little that they have.  There is a certain sense of pride in their cultural heritage, but above all, they suffer the same fate that Mexico suffers.  Corruption has made a name for herself, and despite the unimaginable amount of money that Machu Picchu must generate in a day, I felt like Peru had little to show for it in terms of infrastructure.  Cusco was dirty and old and yet there was something beautiful about the way the people of Cusco hold their heads high and their hearts open.
The question then becomes, should we measure a people's wealth by the clothes on their back?  Or should we measure it by the richness of their soul, by the richness of their heritage?  In the end, that is something that no form of government can steal away from it's peoples.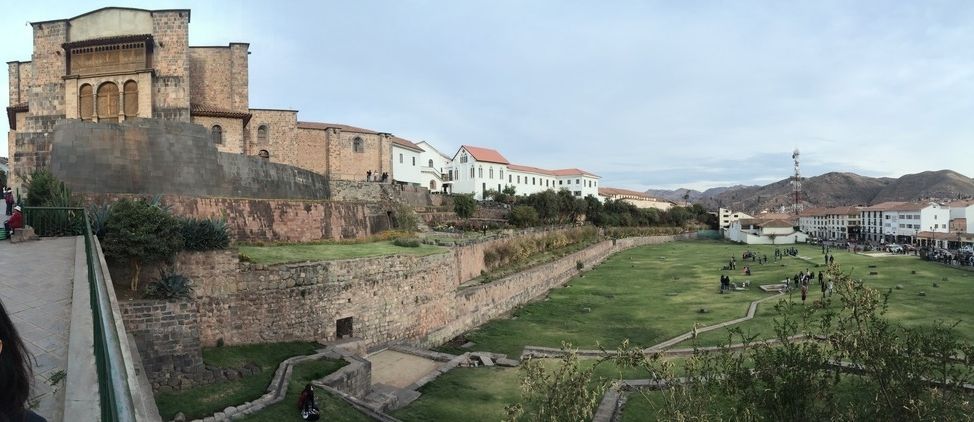 Visiting Archaeological Sites
The touristy areas in Cusco are limited.  There isn't much to see beyond exploring the alleys around the Plaza de Armas, the San Pedro Market, amongst other destinations.  Although the Anthropologist in me would always rather explore a place through the eyes of a local, I am not sure I would want to spend more than a week in Cusco.  Maybe it's the weather, or perhaps that I would rather be elsewhere, but I could not see myself in Cusco for longer than the three days we were there.
Thus, our second day there we caught a tour to some of the Inca ruins that surrounded the area.  Had we stayed a day longer we might have caught some more archaeological sites, but our time there was limited.  We visited Qorikancha (pictured above), Sacsayhuaman (pictured below), and Q'enqo, and got to learn about some of the Inca cosmology and history that I became fascinated by.
Because #Anthropology nerd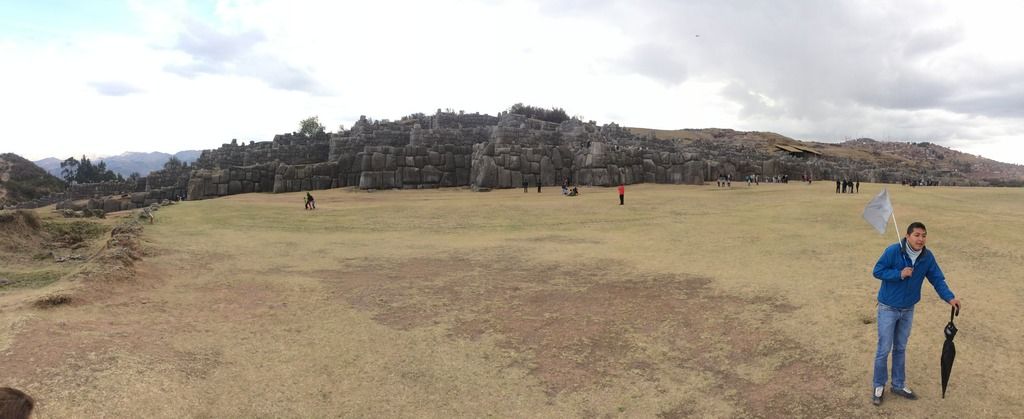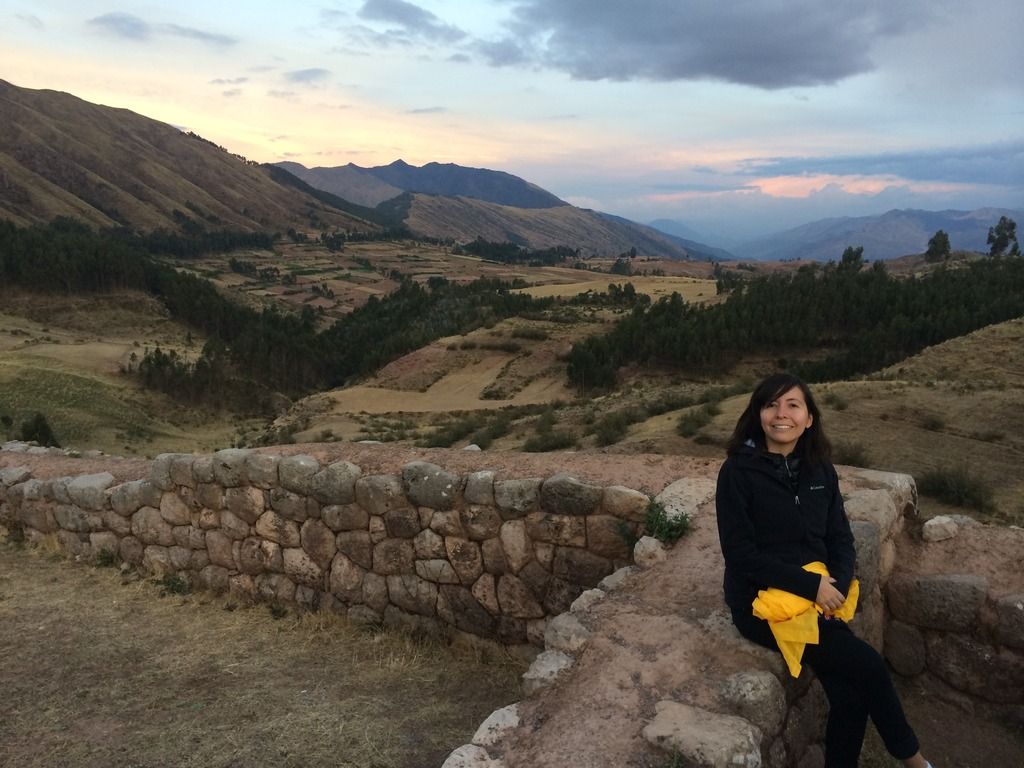 A Few Words of Caution About The Inca Trail
I decided to hire Peru Treks and was very happy with my choice.  Our van arrived on Monday a little after 5 in the morning at our hotel and we joined the rest of our group in our bus.  Then off we went…
I have to admit something.  I really feel that hiking the Inca Trail made a huge difference in how much I enjoyed my brief time in Machu Picchu.  Yes, this is going to sound completely weird, but when I visited Chichen Itza in Mexico on February 2016 (which I will, of course, write about as well), I just had this nagging feeling that if I would've hiked to Chichen for four days I would have enjoyed the ruins a lot more.  Yeah, I know, I'm crazy.  It's just that that is how much of an impact the Inca Trail had on me.
Pacha Mama isn't part of the local allure for no reason.
The truth comes down to this:  The Inca Trail is really not for everybody.  You either have to be a hiking enthusiast, have a keen love for adventure, be cool with camping and rain and climbing stairs for hours, or just bat-shit-crazy.
Ok, I might have exaggerated on that last part.
But seriously, the Inca Trail is not going to be everyone's cup of tea.  So make sure you do your research when trying to decide on whether you will take a tour to Machu Picchu, or hike there like I did.
That being said:  I want to start by saying that the Inca Trail is truly the experience of a lifetime and I recommend it to anyone who is called to do it.
The whole time I kept joking to myself about how the Inca Trail is a "once in a lifetime" kind of deal.  Literally.  Once in a lifetime, as in… never, ever again.  And yet I loved every single minute of what I perceived to be out of my comfort zone.
Day 1 of the Inca Trail:  What The F*ck Did I Get Myself Into?
I've said this before, and i will say it again and again for as long as my soul longs to explore my world through travel:  The people I meet are one of my favorite reasons for travel.  When you sign up for the Inca Trail, you get grouped with other people who selected the same dates as you did.
We were super fortunate to be part of a really fun group of people from all over the world. It was like an Anthropologist/Psychologist's dream come true.  Our group consisted of people from Canada, England, Australia, Italy, USA, and I had to, of course, represent Mexico.
#Because you can take the Mexican out of Mexico, but you can't take the Mexico out of the Mexican.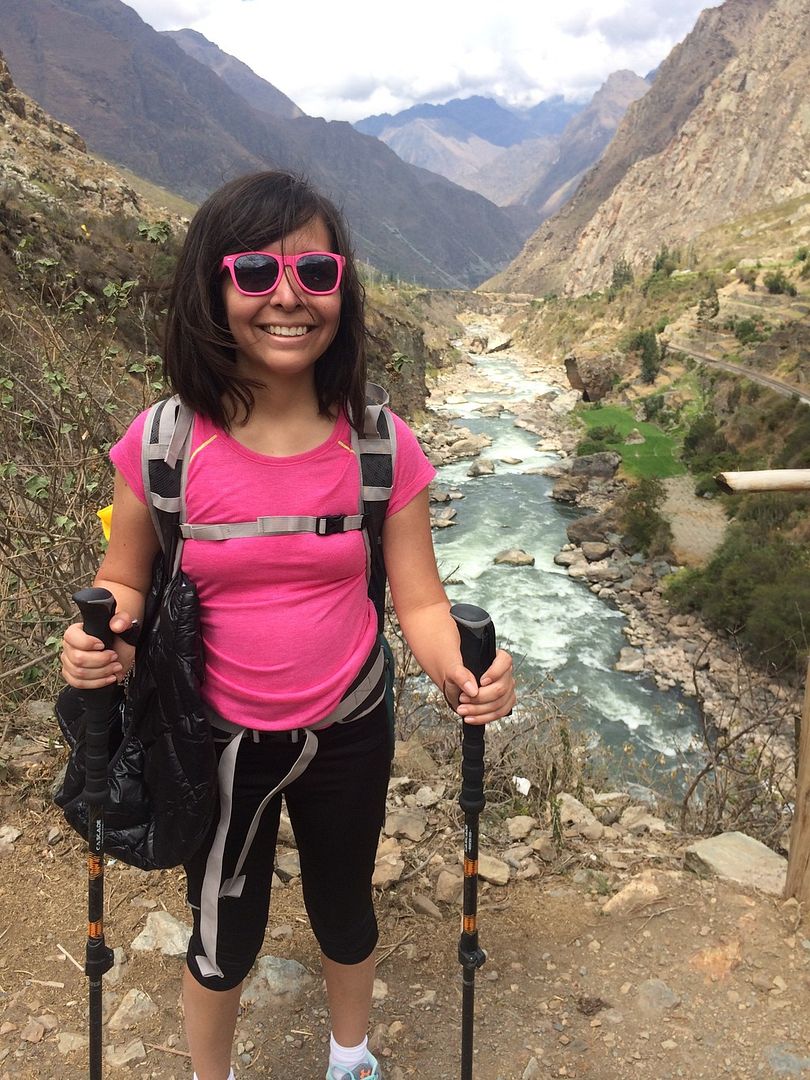 The first day was pretty uneventful (especially compared to Day 2 which you shall read about next week).  We hiked to our first campsite and on the way there I had a major epiphany:  DO NOT CHEAP OUT WHEN IT COMES TO MAJOR TRIPS LIKE THIS ONE.
Yes, that's right, I said it in caps.
When you book the Inca Trail you are given the choice to hire a porter to carry your bags while you busy yourself with more important tasks–such as surviving the next step.  So, IF AT ALL POSSIBLE HIRE A PORTER.  I made the mistake of cheapening out and did not hire one initially.  I figured all I had to do was pack light.  However, once I attached the sleeping bag and sleeping mat, things got pretty uncomfortable.
And when I say pretty uncomfortable, I mean pretty f*cking miserable.
I mean… just look at my face after walking for about an hour or two with that monster of a backpack.  And we still had 3 full days plus what remained of the first day!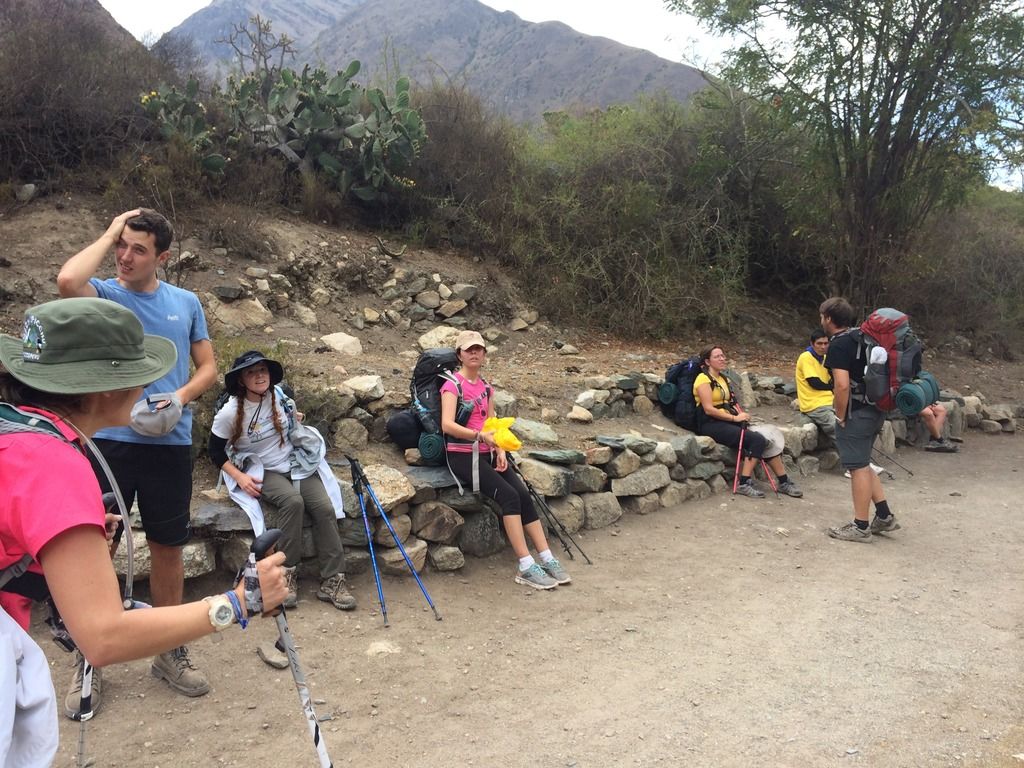 Prior to leaving for the trip I had done a lot of research on people's experience of the Inca Trail and everyone speaks of Day 2 of the Inca Trail with dread.  So when at the first campsite we were given the option to hire a porter for the remainder of the trip and I immediately jumped on the opportunity.  It set my budget $60 USD back, but I swear it was the best $60 dollars I have ever spent.
Not only is hiring a porter a smart idea if your bag is heavy, but it will also allow you to REALLY enjoy the scenery.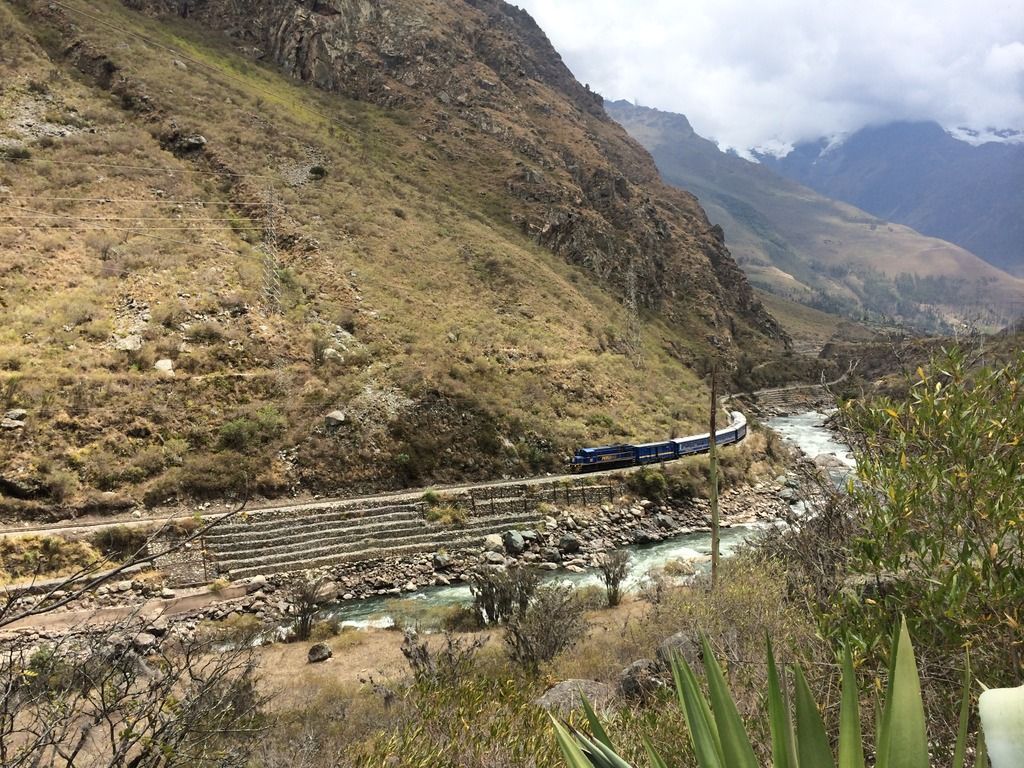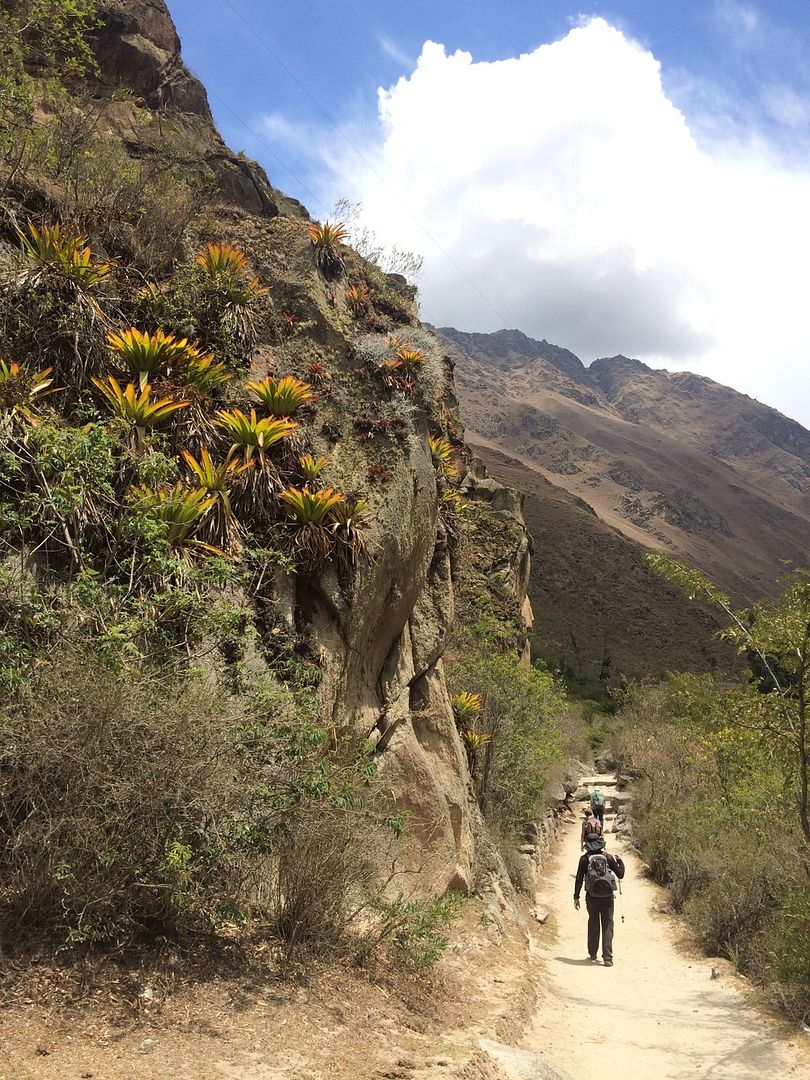 Breathtaking, isn't it?
We wrapped up the day pretty early after only about four hours of walking.  We arrived at the first campsite where we got to meet the porters who carry all of the stuff that we take for granted.  Everything from tents to food and cooking supplies.  These guys are intense, you're talking about running ahead of the hikers carrying no more than 25 kilos each.  The oldest guy was 70something and had been doing the Inca Trail for a very, very long time.
Talk about being spoiled.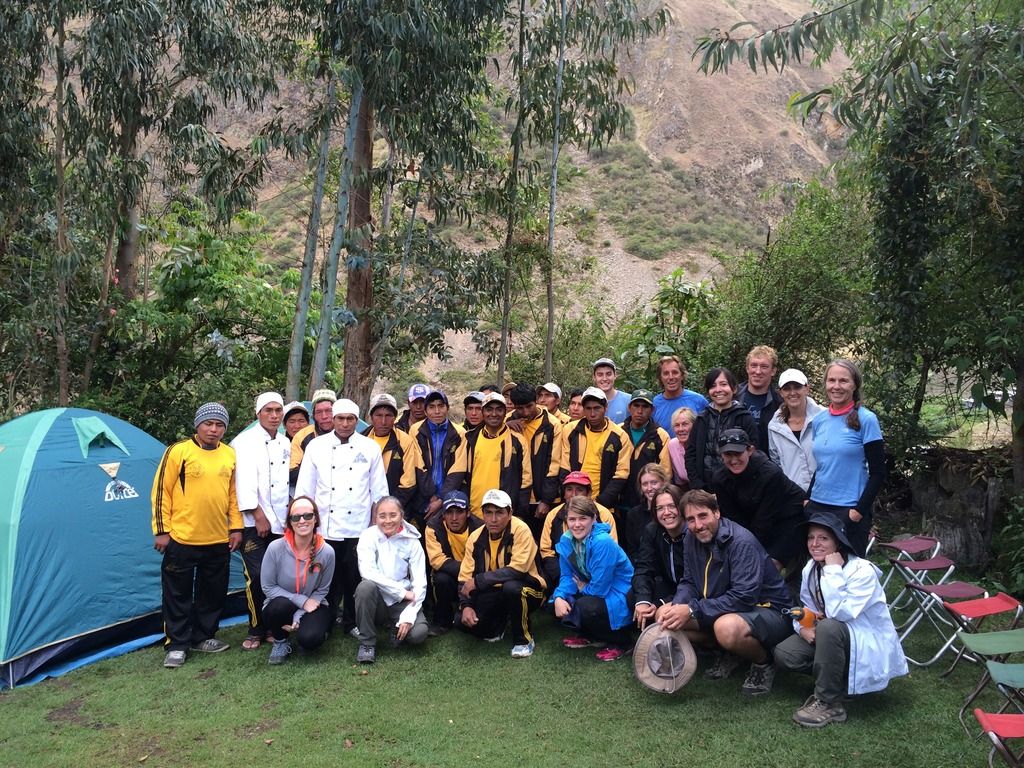 After eating dinner and bonding for a bit, we all made our way to our tents to rest in preparation for Day 2 of the Inca Trail.  We were going to hike uphill around 4,000 feet on our way to Dead Woman's Pass.  The toughest part of the hike.
So, stay tuned to read about part 2 of 3 of hiking the Inca Trail to Machu Picchu next week and thanks for reading!